I've been a member for quite sometime but don't think I ever did a intro. Last had a bug about 10 years ago and recently got one to finally make my volksrod. I finally have some kind of budget to build it this time too which is nice for a change.
This will be a daily driver for me about 25 miles roundtrip to and from work. Occasionally i'll be driving my 15 month old daughter and as yet to be born son to the park/doctor about .5-3 miles from the house. obviously safety is a concern for me, I know these things aren't tanks or have air bags etc. I'm going to do what I can to make it "As safe as possible". A full cage, a fully maintained and repaired running gear, disc brakes (at least on the front) maybe a flame thrower for tailgaters... I know being a defensive driver will be the biggest part of it.
Nothing too crazy planned for the build itself. Running fenderless for now, live in Vegas so rain is not a big issue but when we move to Oregon next year might need to add on some fenders that ride with the wheels. Will make some bomber seats from Redwood as well as some other wooden embellishments such as door panels, light brackets, floor mats, etc. lights ive got some model A taillights rewired for 12v and converted to stop/tail/turn. headlight buckets from speedway and matching style turn signals.
shes got a new engine and trans so its got a good base to start with. just need to finish going through all the neglected maintenance that was never done (brakes, tie rods, etc)
where I'm starting
Roughly where I'm going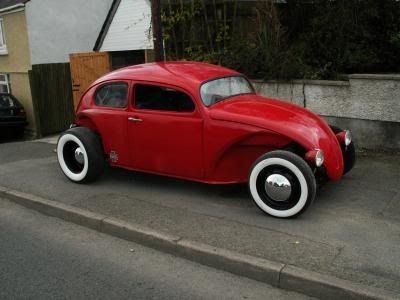 Brian