So this is my newest VW project, I need to get a running car as soon as possible.
It's a 69 Bug which has been stripped of the front and rear fenders, the passengers side has a new floor pan and heater channel welded in, I cut the drivers side out over the past few days and I am in need of my grinder so I can finish cutting part out and then grind the lip so I can weld the new floor pan and heater channel in. Only thing is I looked for about 2 hours today looking for the grinder.
Plans for the car after I get another car running (I already put together an engine for the 69 so it does run). next fall or winter I plan on chopping the top and raising the rear torsion housing as well as the front bulkhead so I can lower it as low as I can and keep the suspension as close to stock as I can.
I have another rear torsion housing and I also have a complete 66 floor pan from my V-8 Bug AKA the 'BitchN Bug'.
I could build a custom floor pan using the front bulkhead from the 66 pan and the rear torsion housing I have. I could start as soon as I get this pan in and out of the garage and then start on a nice 1-1/2 inch tube chassis over the next buncha months, then put the body on and cut away what needs be, add onto where it needs it, with a full roll cage as well.
Now it may take me a while but I also work very slow (think I mentioned that a few times before.
Here it is the day after I brought it home -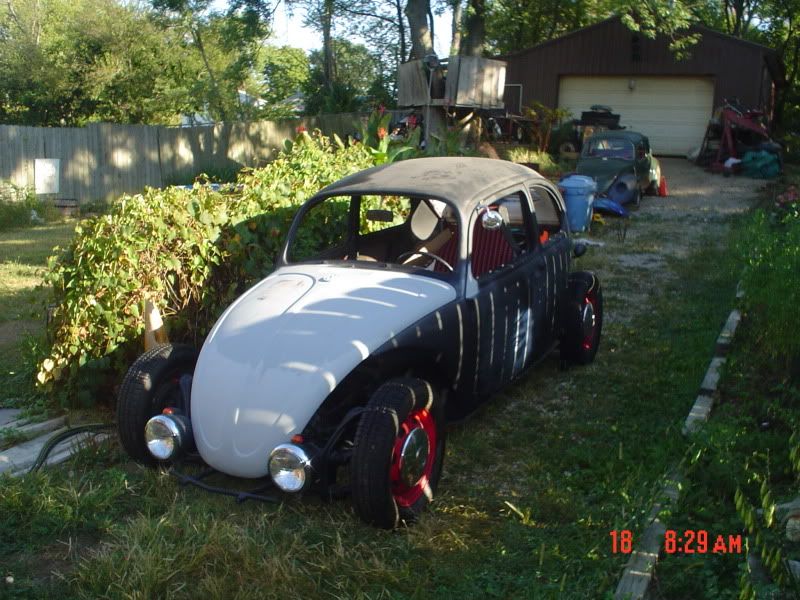 I'll keep this thread here as my criticism and comment page.
http://www.volksrods.com/forum/showt...306#post482306
That's all for now, y'all come back now, ya hear, take ya shooos off N sit a spell