It's been a couple days since I've updated...
LOTS of progress has been made with the bike. It is currently registered and insured which I did last week. I had mentioned earlier that the bike wasn't running tip top which is keeping me from doing some riding, so I sat long and hard to diagnose the problem. It started out that the #3 cylinder was dead with the exhaust temp giving me the clue. It wasn't vacuum related so I pulled the plug and it was clean.... no fuel. I pulled the float bowl off and took out the idle jet and turns out the damn thing was clogged. I shot it with carb cleaner, put the carb back together and the bike lit right up. After about 30 seconds of idling, all of a sudden I lost cylinders 1,2, and 3 again. I pulled the idle jets out which were covered in crap from the gas tank. I cleaned all the float bowls and idle jets and decided it was time to clean the tank.
I got the tank cleaned, the petcock (grungy and filled with sediments), ran some new fuel line and also added some inline fuel filters to each bank of carbs. Once the pieces were put back together, the bike fired to life on the first kick.
and running strong. I took it around the apartment complex for a little spin before taking it on the street and noticed a couple problems. The new fuel hose is 1/4" - not 3/16" like stock-ish size so it leaks (even with hose clamps) and also have to replace 2 float bowl gaskets (all the disassembly and reassembly probably damaged them) which I have a couple left over from the rebuild (original - still good, no leaks). After those small problems are sorted, all is left is setting the timing and syncing the carbs.
Besides all the carb/motor work, I've done some things to get the bike street legal.
I got my fender friday and got the tailight mounted. I didn't like the look of the long fender look so I cut it down.
Here's it installed: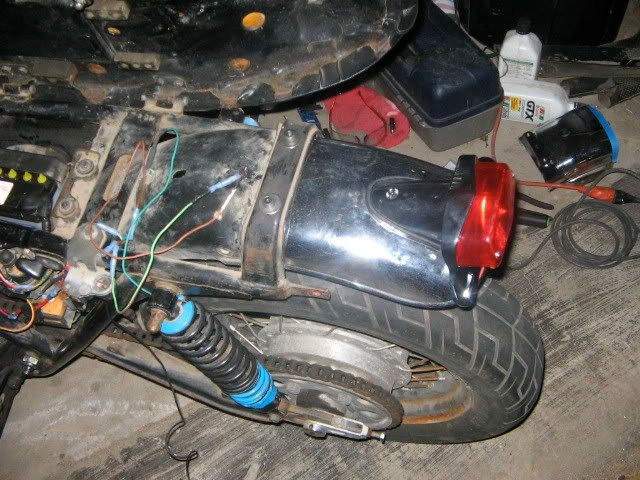 I got the taillight working and also the blinkers working, so I threw on the chromed bullet lights.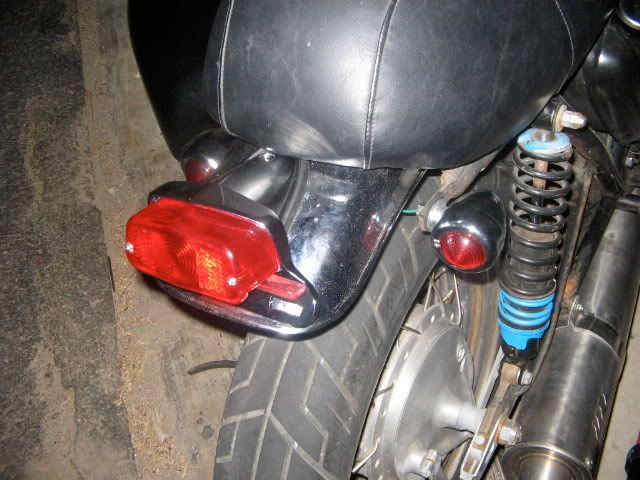 Here's the blinkers in the front: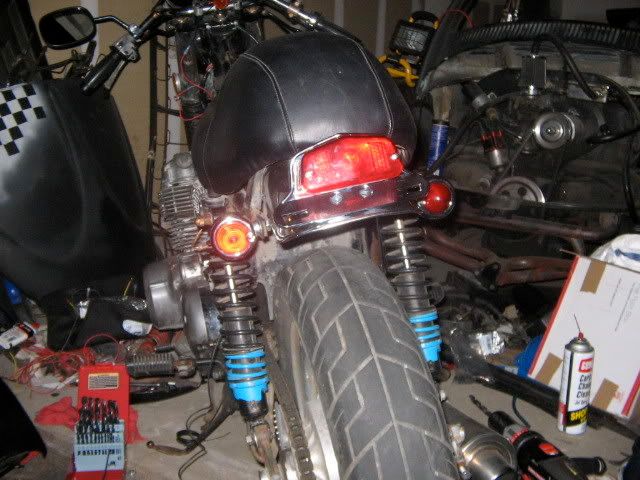 I'm more than excited about getting the bike running! I'm hoping that I can take it for a spin this afternoon!
EDIT: Just picked up some 3/16 fuel hose (stock-ish size, stock size was probably metric since it's a jap bike) at Pep Boyz to fix the fuel leak. Will post updates later tonight with more progress.